As in previous editions, top IT security experts will discuss how we can build a new IT ecosystem and certification body that can achieve radically-unprecedented levels of trustworthiness  – for sensitive human communications and financial transactions, and then critical AIs – while concurrently ensuring offline legitimate lawful access.
In addition, we will explore how a few leading financial institutions, enterprises, public institutions and NGOs can leverage such innovations to turn client-side cybersecurity from a threat into a fundamental competitive advantage in their respective markets.
After Brussels, New York, Iguaçu, Brussels again, and Berlin, the Trustless Computing Association will hold the 6th edition of its Free and Safe in Cyberspace next April 9-10th 2019in in Geneva, Switzerland, in partnership with the Geneva-based Fusion startup accelerator– new home to the association and its spin-off startup TRUSTLESS.AI since October 2018.
COO/CTO & Co-Founder at Wire, a leading secure open-source messaging application provider.
CEO and Co-Founder of nViso SA. Coordinator of Bonseyes Artificial Intelligence Marketplace.
Long-term AI and IT security expert, author and professor.  Director of the Cyber Security Lab. Author of "Artificial Superintelligence: a Futuristic Approach".
Italian Regional Councillor in Lazio Region. Formerly at IBM for 17 years. Expert in Digital democracy, IT security and blockchain. Submitted the 1st law proposal for Trustless Computing.
Executive Advisor to the CEO and Advisory Board Member at High-Tech Bridge, Advisory Board Member of Cybersecurity at Mt. Pelerin.
Co-founder at the Wealth Mosaic, leader building connectionsworld-wide between startups and wealth managers.
Founder and President of ICON NGO based in Geneva, Director of the R&D laboratory of cybersecurity of SecuLabs in Innovation Park – EPFL campus
Location: Fusion startup accelerator (50 Avenue de la Praille, Geneva)
Capacity: 80 seats capacity.
Language: English.
12:00 pm – Registration & light lunch
01:10 pm – Welcome by Laurent Bischof, MD at Fusion and Polytech Ventures.
01:00 pm – Introduction by Marco Obiso, Head of Cybersecurity Division at ITU.
01:20 pm – Introduction by Pierre Maudet, Head of Economic Development Department, Canton of Geneve.
01:30 pm – Keynote & QA by Rufo Guerreschi: Case for a Trustless Computing Certification Body 
Moderator: Obiso — Panelists: Troncoso, Duric, Posch, TBD
How can we provide ordinary citizens access to affordable and user-friendly IT services with levels of trustworthiness that are radically-unprecedented and meaningfully-abiding to the EU Charter of Fundamental Rights, at least for their most sensitive computing? Can we re-create in cyberspace a meaningful private sphere?
What are the key paradigms needed to achieve this goal? What is the role of uncompromising "zero trust" security-by-design paradigms, via transparent and extreme review and oversight of all critical lifecycle components and processes? What the role of free/open source software and ethical hackers? What is the role of certification and oversight governance? How about Blockchains, Quantum Computing, Artificial Intelligence? what about citizen-witness and citizen-jury processes? Can we realistically secure enough CPU design and chi fabrication oversight? What scale of investments are needed? Can we imagine a parallel hardware and software computing universe, as a user-friendly supplement to every-day computing devices?  Read more
Moderator: Guerreschi — Panelists: Rickli, Posch, Miller, Jaccard, Nemitz, Lara
Can providers of ultra-high assurance IT reliably offer compliance mechanisms to legitimate lawful access requests – voluntarily (i.e. in addition to what's required by selected jurisdictions) – while overall reducing both the risks for the privacy of users and for public safety? If so, how? What are the core paradigms of such certification processes?
Can the same extreme technical and human safeguards that are needed to deliver ultra-high assurance also enable voluntary compliance to lawful access request – at least in some EU states – that overall reduce the risk of privacy rights abuse of end-users by anyone to levels that are radically or substantially lower than any of the other alternative secure IT systems which do not offer such voluntary processing? Could or should such processes rely on a provider-managed voluntary data and/or key recovery scheme that is certified and overseen by primarily-non-governmental radically citizen-accountable, independent and competent international body? Could the inevitable added risk be essentially shifted from technical systems to resilient in-person organizational processes? Read more
05:20 pm – Aperitif Session
05:50 pm – Welcome by Rufo Guerreschi, Exec. Dir. at Trustless Computing Association
Moderator: Guerreschi — Panelists: Posch, Zeiger, Lara, Gherbouti, Troncoso. [Panel under construction] 
Hackers and data breaches are part of the daily news. Clients are ever more concerned about the confidentiality of advisory and security of their transactions. Confidentiality breaches, client relationship friction and digital fraud are just some of the downsides of the insecurity of current IT. 
Even the best and most expensive apps, devices, authentication methods are vulnerable to confidentiality, integrity and authentication breaches even by mid-level hackers.Will the "call back" transaction verification be enough when voice impersonation technologies are emerging? Meanwhile IT giants, slowly moving into banking, are increasingly taking control of the interface and able to offer better security by controlling the underlying software and hardware. 
07:10 pm – Aperitif session
Moderator: Meyer — Panelists: Guerreschi, Petronio, Lara, Zeiger,  [Panel under construction] 
Cyber in the financial world done correctly can open doors to new and amazing opportunity; but done wrong, it can bring us back to the age of pen & paper. Both ease of use and security of digital financial advisory are critical to retain, deepen and expand client relationship in the digital age. 
How can financial institutions  become the digital trust partner of their clients? How can this be done and what advantage would the leaders gain compared to the followers? Can a group of leading enterprises, wealth management firms, banks, NGOs and nations gain a fundamental competitive advantage in digital trust by leading the creation and adoption of next-generation IT security paradigms and certifications? 
08:20 pm – Aperitif and networking
09:30 pm – End
*Definition of "Ultra-high Assurance": In civilian and military IT security, "high assurance" is used to refer to systems of the highest trustworthiness in confidentiality, integrity and/or availability. Perfect trustworthiness will never exist but we have learned that even current "high assurance" technologies, standards and certifications are radically inadequate for the needs of citizens, enterprises, democratic institutions, critical societal systems, and autonomous systems.
08:30 am – Registration & Coffee
09:00 am – Welcome by Marco Obiso, Head of Cybersecurity at the UN International Communication Union.
10:00 am – Keynote by Armstrong: "How can a coalition of actors promote the establishment of adequate global AI governance by exiting from the current semi-anarchic default condition"
10:20 am – Coffee Break
10:30am – Keynotes: Visions for positive future scenarios for Humanity, in the age of AI
Keynote by Armstrong: TBD
Keynote by Yampolskiy: TBD
Keynote by Delarive: TBD
Keynote by Davis: "The history of the fight for global governance: from 1945 to date. The example of Garry Davis"
Moderator: Guerreschi — Speakers: Nemitz, Obiso, Posch, Guerreschi, Armstrong, Delarive, Pedron
Recent calls for international treaties on IT security – such as Tech Accord, Charter of Trust, Call of Paris and for a Digital Geneva Convention – are crucial. Yet none of them tackles the need for trustworthy cybersecurity certifications to enforce such treaties. 
How can such certification bodies increase the resilience and "forensic friendliness", to radically improve resistance against attacks and confidence about attacks attribution? — What constituent processes can ensure a timely, effective and democratically-efficient implementation – by a critical mass of actors – of meaningfully-enforceable national policies or international treaties for ultra-high assurance IT standards setting and certification processes? 
On stage: Armstrong, Nemitz, Posch, Troy, Delarive, Guerreschi, Pedron
Can the all-powerful threats of AI and cybersecurity provide the needed motivation to build adequate open federal transnational democratic institutions, as the nuclear threat nearly did in 1945? 
Can the threats (and opportunities) of the accelerating pace AI and the destabilizing effect of cyber-warfare constitute a unique opportunity to radically empower and democratize our transnational governance institutions? 
08:20 pm – Aperitif and networking
09:30 pm – End
The World is rapidly turning into a Hacker Republic, where economic and political power is increasingly accruing to those actors with the most informational and hacking superiority in critical IT systems.
Apparently, even Jeff Bezos and Donald Trump cannot access a device to communicate with their closest associates that is not hackable even by mid-level hackers. What hope is there for the rest of us mere mortals? Is it really a technological problem? Or is it instead that all IT is broken by design at birth, to satisfy legitimate needs of law enforcement?  
Nearly all IT systems are hackable by nations or even by talented or well-resourced hackers. It is a problem of hyper-complexity, lack of transparency, and misplaced "unverified" trust. But, ultimately, it is due to a powerful nations' action to break all IT at birth to retain investigative access to data of criminal suspects, and lack of a sufficiently trustworthy certification entities and resilient ecosystems.  
Most believe that digital freedom and public safety are an "either-or" choice, a "zero-sum" game. Or is it instead a "both-or-neither" challenge, solvable primarily through battle-tested open technologies, time-proven oversight mechanisms, and ultra resilient and accountable certification governance models?
Current attempts to radically increase the trustworthiness of IT sensitive system – especially in communications and transactions – are centered on the pursuit of scientific breakthroughs in the area of artificial intelligence, quantum computing, and innovative encryption protocols, such as quantum-resistant, blockchains, zero-proof, end-2-end and homomorphic. Meanwhile, a few security-by-design or blockchain initiatives are taking a more holistic, short-term and trustless approach, which is centered on open, time-proven, battle-tested – yet future-proof – technologies and processes; transparent oversight down to critical hardware design and fabrication; a transparent resolution of the lawful access needs; and more accountable and resilient certification and ecosystem governance models. 
A Trustless Computing Initiative and a proposed Trustless Computing Certification Body will be presented, as a core outcome of 3 years of work by the Association partners, advisors, and numerous participants of previous FSC editions. Initially targeted to sensitive human communications and transactions, for high-profile and ordinary citizens alike, such new standards and certifications will extend to the most critical sub-systems of Artificial Intelligence, cyber-physical and governmental systems. As in past editions, we will gather leading experts and organizations to find solutions to 4 Challenges:
On Sept 24-25th 2015, the 1st Edition 2018 was held in Brussels, with a high-level set of speakers, including recognized IT security experts such as Bruce Schneier and Bart Preneel, and from the IT security institutions, such as the Head of Information Superiority of the European Defence Agency, and more. See the report and the program with videos.
On Oct 16th, 2015, the 2nd Edition was held during the largest South American free software conference in Iguaçu, Brazil, and gathered distinguished minister of IT of Brazil, Marcos Mazoni, Rogerio Winter, a high-ranking official of the Brazilian Cyber Command, the CEO of the most advanced crypto company in Brazil, Kryptus, and more experts.
On July 21st, 2016, a 3rd Edition was held in New York with amazing speakers, including Joe Cannataci, the UN Special Rapporteur on the Right to Privacy, and Max Schrems, the Austrian privacy activist behind the overhaul of Safe Harbor Agreement. See the report.
On September 22nd-23rd 2016, the 4th Edition 2016 held in Brussels gathered experts, including the CIO of Austria, the Vice-Chair of the EU Parliament LIBE Committee, Paul Nemitz, Director of Fundamental Rights and Union citizenship in the DG Justice of the European Commission, and more. See the Programme, Videos and Slides.
On May 4th 2018, the 5th Edition 2018 was held in Berlin. High profiles joined, including Reinhard Posch, Chief Information Officer for Austria, Andreas Reisen, Head of Division "IT and Cyber Security in Critical Infrastructures and the Private Sector, Secure Information Technology" of the German Federal Ministry of the Interior, and more.


Trailer of the

4th Edition
Introduction & Panel on Challenge A of 1st Edition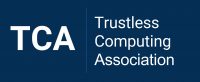 The Trustless Computing Association is a non-profit organization, based in Geneva, that has aggregated World-class partners and advisors to build open IT technologies, certifications and ecosystems of technologies to deliver levels of trustworthiness that are radically more secure and accountable than today's state-of-the-art. Together with its spin-off startup TRUSTLESS.AI – based in Geneva at the Fusion accelerator – it has been building (1) the Trustless Computing Certification Body, a new IT security certification body and schema, aimed at radically-unprecedented levels of trustworthiness, while at once solidly enabling legit lawful access  and (2) building the Seevik Pod and Net, an initial compliant open computing base, ecosystem and IT device.

Rufo Guerreschi
Executive Director

David H. Berger
Deputy Director

Filipe Magalhães
Marketing Designer